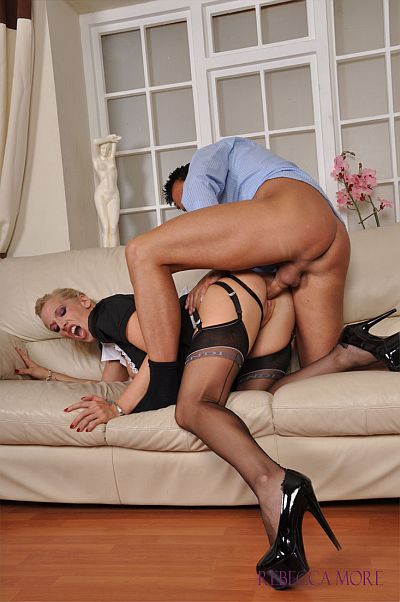 Rebecca enjoys any excuse to slip into a sexy maids outfit, stockings and heels, and get down to cleaning her office.
There she was happily cleaning away, bending over so the tops of her stockings and cheeks of her ass peeked out from under her dress, when she caught one of the office guys checking her out.
Rebecca kept bending over in front of him, flashing her round ass until she could see the huge bulge in the front of his pants.
That was all the encouragement she needed and getting on her knees she took his erect cock deep inside her mouth, gagging on the thickness of it, but smiling away.
She cleaned his cock up nicely and gave it a lovely polish, but a dick like that needed more work and her pussy was the only option.
"Fuck me and fuck me hard!", she implored, and he threw her over to the table, bending her over to ram his thick cock inside her and fuck her from behind.
Grabbing Rebecca's suspendered ass, he thrust his meat deep inside her tight cunt and gave her the ride of her life. Then Pulling his cock out of her throbbing cunt hole, he splashed his sperm on the floor where Rebcecca got on her knees to lick it up.