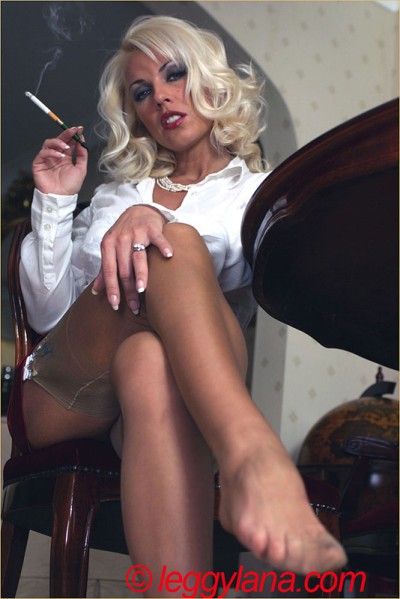 Leggy Lana Cox has gone from being a glamourous leg model, to doing foot jobs and now blow jobs on her personal site Leggy Lana.
Lana's site has become ever so popular and it's easy to see why, as Lana is stunningly beautiful and her legs look fabulous in fully-fashioned nylons.
Lana likes to give exquisite foot jobs to her personal limo driver, cleaner and office boy, whenever her husband is away. She grasps his cock between the soles of her dainty size 3 feet, covered in warm sensuous nylon and jerks his prick until he cums over her peds.
Lana has recently taken things further and is giving blowjobs to the lucky chap, including sensuous smokey blow jobs, all of which adds to Lana's sexy repertoire.
See Lana playing footsie with her male personal assistant, then see her hardcore video trailers on her tour at Leggy Lana.