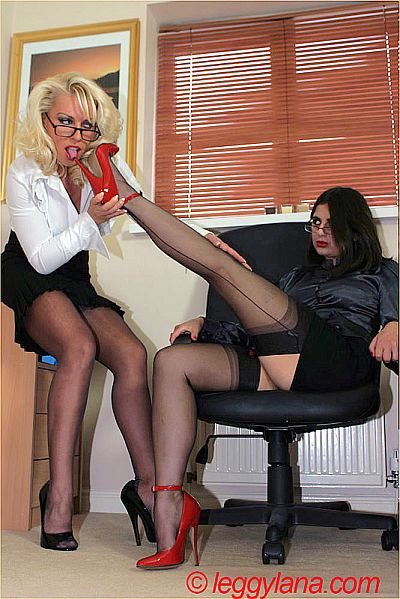 Lana Cox interviews her new PA but soon they are both distracted by each others stockings and get down to some hot lesbian stocking sex in the office, in this video from Leggy Lana.

During the brief Lana noticed her new PA wasn't paying much attention to her words and when questioned, admitted that she was being distracted by Lana's 6″ stilettos and long legs in fully fashioned stockings.
Lana let her new PA feel up her stockinged legs and became aroused by her delicate touch brushing against her thighs. Lana stretched over and ran her hands likewise up her employee's stocking clad legs, lifting one leg up by the ankle and licking the heel and toe of her red stilettos.
The PA sat up on the desk in a better position and opened her legs, revealing her tight red panties that covered her cunt, inviting Lana to cum and enjoy her sex.
Lana's fingers trembled with excitement as she undid her PA's satin blouse and took her hardened nipples in her mouth, sucking and nibbling them with her lips.
The new PA went straight down on Lana's pussy, licking and fingering it until she brought Lana to a shattering orgasm. Then it was Lana's turn to get down between her employee's legs and lick her cunt to orgasm.

See the trailer for this hot stocking sex video or download it from Leggy Lana and see how she makes this secretary cum and moan in ecstasy!