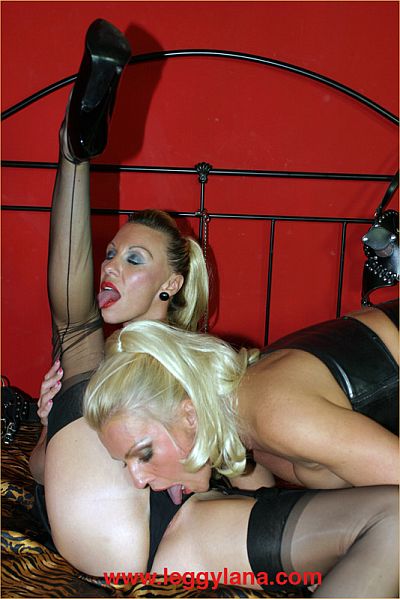 Blonde leg queen Lana Cox enjoys being dominated and made to please and satisfy her nylon stocking clad Mistress Saffy, in this hot and dirty movie.
Lana enjoys her normal role as a dominant, but has never experienced "the other side" of being a submissive slave, until now!
Dressed in latex, her mouth gaged by a rubber ball, Lana is chained to the metal bed and awaits her Mistress Saffy.
Mistress Saffy, dressed in a latex dress, black nylon stockings and high heel court shoes looks stunning.
She calls Lana her little slut, and punishes her by spanking her naked ass, first with her hand, then with a paddle which leaves Lana's bottom very pink and tingling.
Saffy wastes no time in ordering Lana to service her needs, and makes Lana lick her heels, stockinged legs and pussy.
Lana tries hard to please her mistress, licking Saffy's hot cunt and fucking it with a large black dildo, but her efforts seem to be never ending. Mistress Saffy enjoys making Lana work hard at bringing her to orgasm.
Lana licks and licks Saffy's clitoris with her tongue, while pushing and stretching her Mistresses' cunt with that big black dildo until she finally cums loud and hard.
DOWNLOAD THIS MOVIE OF LANA BEING DOMINATED AND MADE TO PLEASE MISTRESS SAFFY AT LANA COX