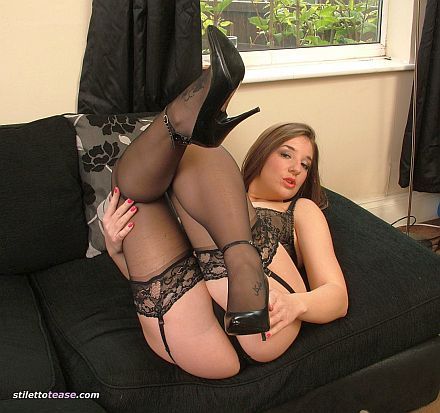 Miss Pussy Heel was getting ready to go out and had dressed in black bra, nylon stockings and suspenders, but when she put on her leather heels she felt so sexy she just had to play with them awhile…
'Just looking at these make my panties stick to my pussy', Miss Pussy Heel says, extending her legs to admire their shape and how sexy they look in her stiletto heels.
'Let me just take a shoe off my sexy foot to kiss it and worship it,' she continues, slipping off one heel and putting the tip of one shoe into her mouth to give it a gorgeous suck.
Miss Pussy Heel then takes her leather shoe and pushes it down the front of her panties. The feel of the leather as she presses it hard against the moist swollen lips of her cunt causes her to experience an intense orgasm.