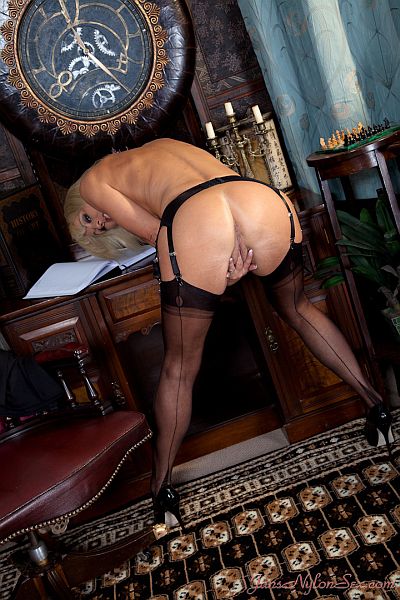 Jan was looking through her accounts one morning, and as she read through the ledger she was only slightly conscious of her hands reaching down to stroke her stockinged legs. She became distracted by the movement of her hands and the lovely sensation caused by the new pair of fully-fashioned nylon stockings she was wearing.
Noticing that one of her suspenders had detached itself from the welt of her nylons, she lifted up the back of her skirt to clip the metal clasp it back in place.
Now that her attention was drawn to the lovely array of suspenders and the sight of her sexy stockinged legs, she knew she would not be able to concentrate on her accounts. The desires that her sexy stockings aroused made her feel the need to masturbate, so she stripped off her jacket and skirt and settled back in her chair.
Jan spread her legs and allowed her hands to caress her fit mature body and fondle her breasts, then slipping her hand between her stockinged legs she massaged the lips of her hot mature cunt and made herself orgasm.