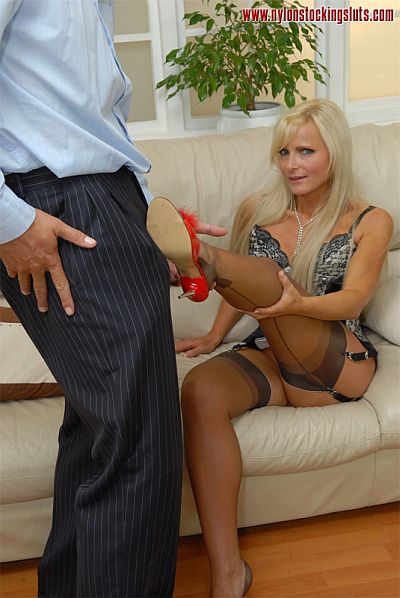 Horny housewife gets fucked in her nylons by the handsome stockings salesman in this movie from Nylon Stockings Sluts.
After being disturbed by a knock at the door, Sam is not in the least bit annoyed when she discovers it's the stockings rep from a company she has contacted, and he's just the sort of hunky guy she's been fantasizing about!
She invites him into her living room where he immediately starts to show this blonde babe what he has in his bag. Lots of seamed nylons and foundation wear are offered for Sam's perusal, and when she picks out a fabulous silver and black basque, he's more than happy to help her try it on, along with some beautiful chocolate coloured nylons.
Sam soon realizes that this guy is all about customer satisfaction… especially when she undoes his zip and discovers he has an enormous cock!
Sam is so in love with the salesman's cock she wraps her nyloned feet around his erect tool and gives it a good wank, rubbing the throbbing shaft with her nylon soles.
Then she leans forward and puts that rock hard fuck stick in her mouth and gives it a nice wet sucking, while the guy feels up her suspendered ass.
In return, our salesman slips his head between Sam's stockinged thighs, and gives her pussy a good licking, before turning her over and fingering her cunt while he licks her tight little arse hole.
Sam lies on her back with her stockinged legs in the air, and the salesman gives her good hard pounding with his huge erection, making sure he finds time to suck on her nylon clad feet.
Sam can't get enough of this guy's huge penis, and urging him to fuck her nice and hard, he obliges her by thrusting his swollen cock into her hot and eager quim.
When it's time for him to deliver her free order of spunk, Sam holds one of the stockings over her mouth and the salesman shoots a big thick load onto the nylon…
DOWNLOAD THIS MOVIE FEATURING SAM SHAW AND THE NYLON STOCKING SALESMAN FROM NYLON STOCKING SLUTS