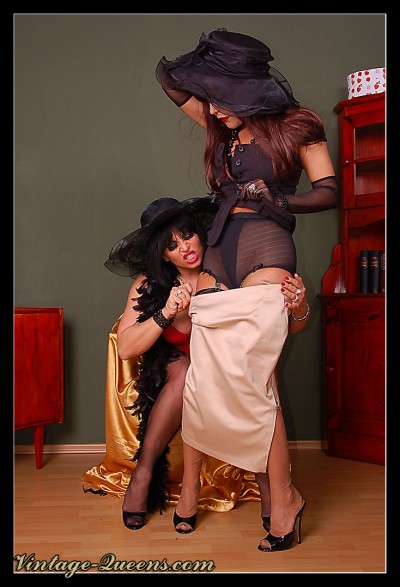 Eve and leggy Amanda are two ladies who share a passion for vintage nylons and undergarments. They have been getting together these past months and indulging their fetish for retro fashions and recreating those bygone days when women wore the most erotic garments beneath their skirts and dresses.
There is no one more able to recreate the glamourous fashions of yesteryear quite like Italian model Eve. She plans all her photo shoots by paying attention to detail, making sure she creates an authentic mis-en-scene to evoke those glamourous times of the 50's and 60s.
Over the years Eve has collected a huge number of nylon, fully fashioned stockings, pantyhose, girdles, garter belts, lingerie, panties, skirts, dresses, blouses, hats and high heels. She loves to dress up in all these gorgeous clothes for the sheer thrill and sexual excitement it brings.
Discover the glamorous world of sexy and sophisticated model Eve right now at Vintage Queens.