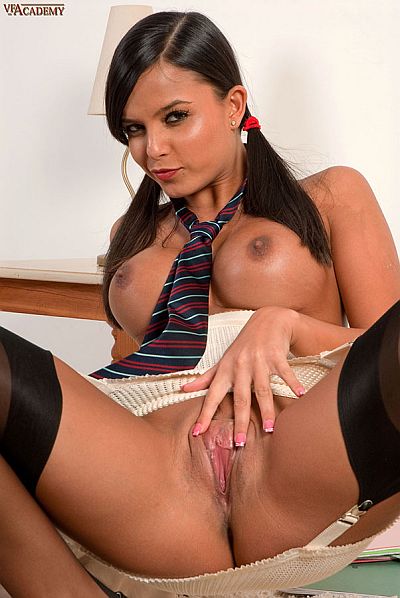 Uniformed college babe Sasha masturbates in her girdle and nylon stockings, while she fantasizes about being seduced by her teacher in this movie from VF Academy.
Sasha tells us she has 'a serious crush' for the handsome male geography teacher Mr. Davidson, especially as she's heard he's got a big cock! Apparently some of the other girls have been wanking him off, and others have been shagged over his desk, or so they tell her…
All that sexy gossip has got Sasha hot and bothered in her suspenders and nylon stockings, and she needs to play with herself, badly.
Watch as she rips open her blouse and lets her hand move between her stockinged and suspendered thighs so she can play with her pussy.
Removing her bra she squeezes her perky brown tits, imagining letting her teacher feel them up all he wants. She wouldn't even mind if he wanted to spank her, and pulls her stockinged legs close to her chest so she can spank her perfectly round arse with her own hand.
Watch as this stunning college babe gets into different positions and wanks herself off by stuffing her fingers up her wet snatch, in this VF Academy Movie.