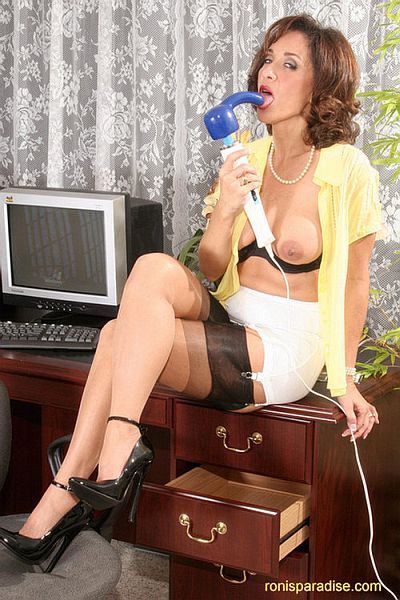 Super milf Roni is a busy business lady having to maintain her site and organize her photo sessions. Even when she is working at her desk she dresses in nylons and heels which make her feel sexy and aroused while she goes about her daily routine. It's not all work though and when she feels the need she takes time out to play with her sex toys and masturbate.
One day her photographer was visiting her office to discuss some future assignments and she decided to give him a demonstration of her masturbation technique. Roni pulled up her skirt to reveal her white girdle and the tops of her black rh&t nylons and proceeded to show him just how she masturbates with her luxury vibrator whilst reclining on her office chair. You can see what Roni got up to in this gallery here at Roni's Paradise.
Roni's Paradise is a superb site that has over 14,000 high resolution images and around 400 videos of Roni and her friends in stocking, pantyhose, lesbian and hardcore sex. Membership entitles you to access not only Roni's site, but two other nylon sites into the bargin.
I recommend taking the tour and click on 'What's Inside' to see Roni's message to her fans and see what exactly she has to offer. Nice one, Roni!