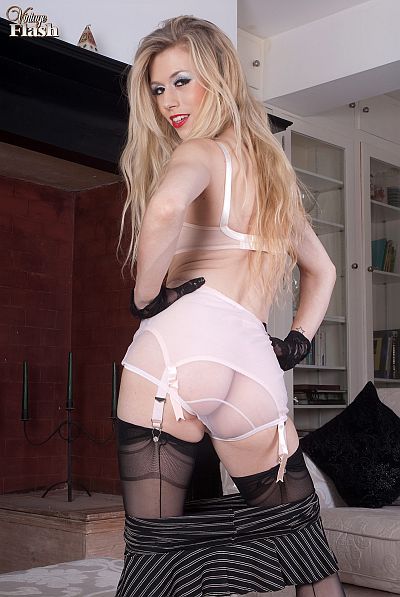 Michelle had dressed in a tight fitting skirt, black French nylons and sexy black mules, but thought her outfit may be a bit too racy for the guests at the party she had been invited to attend.
To show just how sexy and revealing her racy outfit looks, she bends over so the bumps of her suspenders show through her skirt as it wraps tightly around the cheeks of her ass.
Michelle slowly runs her hands up the back of her seamed stockinged legs and lifts the hem of her skirt to show the taut suspenders pulling on the tops of her saucy black nylon stockings. Then seductively strips off her clothes to reveal she is wearing a pink vintage bra, garter-belt and sheer nylon panties through which the lips of her hot cunt can be clearly seen.
Kneeling on a chair she wiggles her ass which causes her suspenders to stretch and pull against the tops of her sexy nylons. She then slips her nylon panties over her pert buttocks, pulling them down her stockinged legs and removing them from her feet in their sexy mules.
Michelle squats down on her heels and opening her stockinged legs she reaches between her thighs and rubs her lace gloved fingers against her clitoris and hot pussy. She bucks her hips as she vigorously massages the pink lips of her gaping cunt and her breath quickens as she experiences an intense orgasm.