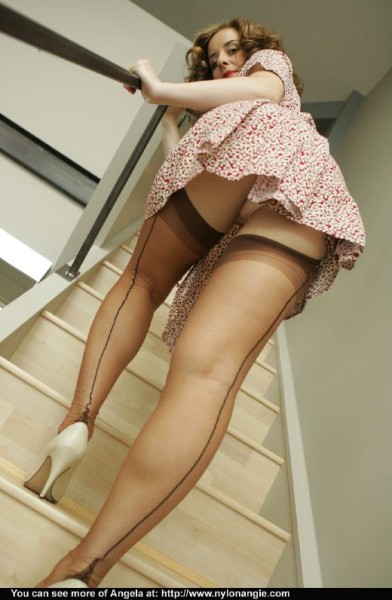 Dirty Angie loves the way women dressed in the fifties and sixties, especially all those sexy underwear styles of that era.
Angie wants to be your favorite girdle girl in nylon stockings, just like the ones you used to know back in the day. She knows you will love seeing her in pretty dresses, frilly crinolines, silky slips, bikini panties, vintage garter-belts and retro nylon stockings.
Dirty Angie doesn't mind if you have a good look up her skirt and peek at her lacy panties and stocking tops held up by metal garter clasps. In fact she will lift her skirt for you from the front, then turn around and bend over so her seamed stockings are pulled taut by her garter-straps as she moves her sexy ass from side to side.
Are you enjoying the view? Angie sure hopes so and she wants you to enjoy all of her sexy shows she puts on for her gentlemen friends. Come and see what she has been up to recently on her website Dirty Angie – Dirty in Nylons, she waiting for you now.