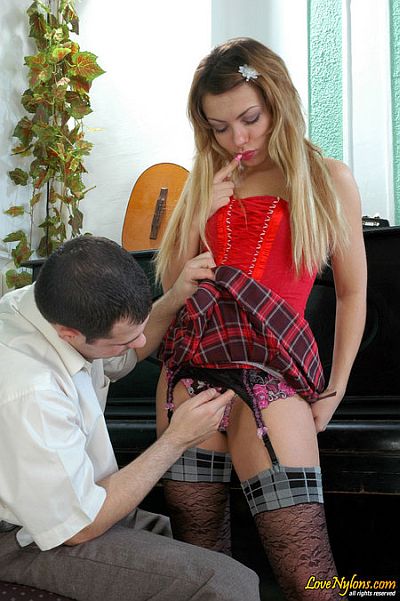 Hot student Renee teases her music teacher by wearing her short plaid skirt and fashion stockings, then lets him fuck her senseless over the piano in this photoset from Love Nylons.
Music student Renee had a crush on her piano teacher Mr. Monty, but he didn't appear to notice how much she was attracted to him, even though she had tried to make it obvious with a few flirting gestures.
So one afternoon she arrived at the lesson wearing a tight red corset top, short plaid skirt, patterned fashion stockings, and matching garter-belt and panties, in the hope she would get his full attention.
Renee needn't have worried as Mr. Monty complimented her on her sexy outfit, then began lifting her flirty skirt and feeling up her panties and stocking covered thighs, telling her how wonderful she looked.
She did not resist his advances, allowing his playful hands to wander and do just what they liked, touching her slit through her pretty panties and feeling his fingers brush over her nylon clad thighs.
One thing led to another and she undid his trouser fly, releasing his stiff cock, wanking it with her gentle fist closed around the pulsing shaft, tugging back the foreskin over the purple head of his erect member.
She got a thrill when he put his cock between her ass cheek and the tight strap of her garter-belt and then fucked it, his hot erection rubbing against the soft roundness of her ass.
After all this excitement she went down on him, taking her teacher's pulsing cock into her mouth. She swirled her tongue around his nob end and bobbed her head, looking up at him with innocent eyes to see how she was doing by gaging the pleasure on his face.
Then she stood up, turned around and tilted her exposed ass in the air, inviting him to give her a lick. Her teacher went down on his knees and started lick her cunt, sucking the folds of her vagina and sticking his tongue up her wet slit, making her squirm as he ran his hands up and down her stockinged legs.
Then he stood up and entered her from behind, fucking her over the piano with vigorous thrusts of his hips, making her feel his cock plunge deep inside her.
Yes, Renee knew she had certainly got her teacher's attention and to show her gratitude she gobbled him off and let him release his spunk into her hot eager mouth.
Download this smoking hot stocking seduction photoset from Love Nylons.