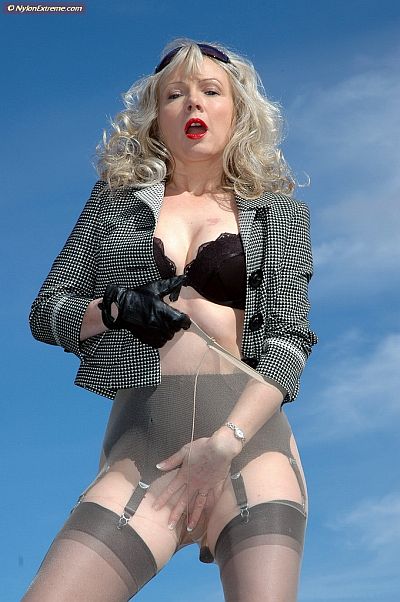 Hot blonde mature nylons fetishist masturbates outdoors in layered nylons at Nylon Extreme.
Plantinum blonde Sue loves to do extreme things in her nylons and on this occasion she went out into the country wearing sheer pantyhose over her stockings and suspender belt.
I wrote to Sue and asked her what she enjoyed the most about doing location shots and her experience of exposing herself outdoors. She replied,
'I love going out with my husband and finding quiet places in the countryside where I can expose myself. It's a bit of a risk, but if anyone does come by then so be it. Just knowing we may get caught makes it all the more exciting.
'I took these pics back in the early Spring, when I went out looking very smart in my 50's style suit, below which I wore my nylons and suspender belt, over which I had pulled my pantyhose. Just driving around looking for a location while wearing my kinky clothes made me feel sexy and desperate to play with myself.
'But the long wait was worth it and when we found a remote area with no one about, I stood next to a stone wall and slipped off my skirt, exposing my kinky underwear to the open countryside. The sensation of being so exposed out in the open was such a thrill and felt very daring.
'I placed my hands down the front of my pantyhose and inserted my vibrator up myself, letting it buzz inside me, as I posed this way and that with my legs open and my crotch exposed. I was so turned on by that point, I soon experienced my first orgasm, then another as the tight gusset of my hose held the vibrator in place, pushing it in and out of my wet, gaping cunt. It's a little trick I learned, which is one of the reason I like wearing the pantyhose over my other stockings'.
If you like the kinkier side of nylons sex then visit Sue at Nylon Extreme and download her superb nylons fetish pics and videos.