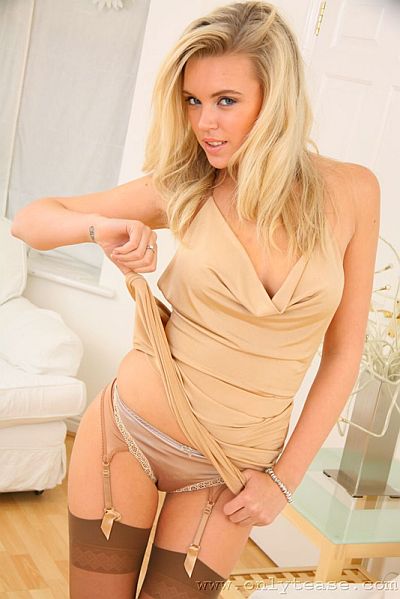 Smoking hot blonde Porchia W., strips out of her mini dress and reveals she is wearing expensive lingerie and sheer tan stockings in this photo strip set from Only Tease.
Blonde bombshell Porchia knows she is the business and always dresses in the sexiest clothes whenever she goes out socializing. She couldn't help but notice all the guys at the club had been looking at her ass in that tight dress all evening. They must certainly have seen the very obvious outline of her suspender garter belt straps through the material of that slinky gold dress.
Playing the game of seduction, she made sure the hem of her dress was pulled slightly higher over her thighs and the tops of her nylons showed as she sat chatting to her friends. Porchia enjoyed the attention she attracted and the arousing effect this had on all the men who noticed what she had on display.
Back in the privacy of her apartment, Porchia is ready to relax and starts to remove her clothes. Her dress soon finds it way to the ground and she poses in just her satin thong, stretch garter belt and tan colored stockings. Sitting back down, Porchia folds up her legs on the couch and points her pretty feet in stockings, wiggling her toes sheathed in their smooth nylon encasement.
It's a beautiful sight and you can see lots more of Porchia at Only Tease, where you get to see what every male at the dance club was fantasizing about when they saw Porchia this evening.