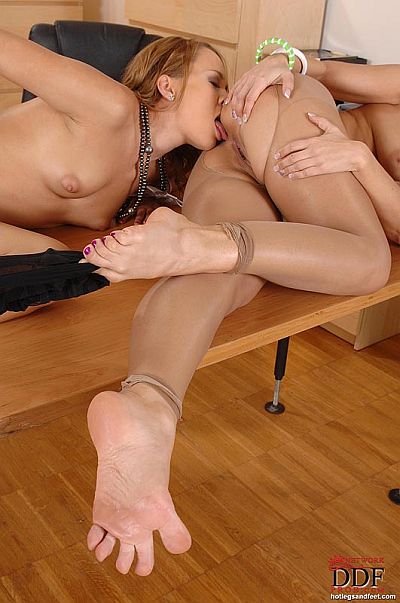 Blue Angel and Eve Angel play two office workers getting distracted by their leggy desires for pantyhose and foot sex in this video at Hot Legs & Feet.
Both gals have killer pins, obviously, and here they are outfitted in alluring sheer nylon pantyhose and sexy stiletto sandals.
Blue worships Eve's feet in her candy-colored shoes, savoring Eve's purple-colored toes through her nude pantyhose, and really enjoying the shape of those 6.5 feet as she sucks on the arch.
Then both girls lick Blue's size 6 feet through her sheer black pantyhose, before Blue gets to go back to adoring Eve's peds.
Eve's tights get ripped open and Blue licks her feet, sliding her tongue in between the soft pink digits of her manicured toes.
Eve then puts her bare foot in Blue's pussy, while her friend rubs her clitoris with her own foot as both girls orgasm together.