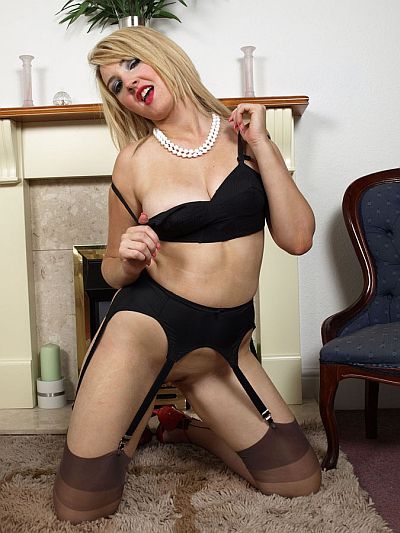 Katie Kay masturbates in her fully-fashioned nylons and suspenders in this Hi-Def Movie from Vintage Flash.
Today, Katie went to a social function dressed in her nice posh frock, wearing sexy full fashion nylons, garter belt, and no panties underneath her smart dress.
As she stood chatting and drinking champagne, Katie noticed several of the older gentlemen paying attention to her legs and giving her a knowing smile. It must have been her seamed nylon stockings that had caught their interest, and she had to admit to herself how much she was enjoying their attention.
Having those male eyes on her made her feel excited, and it gave her a secret thrill knowing she had no panties underneath her formal dress. If only they knew!
She quite fancied some of these older guys, and wouldn't have minded letting them fuck her, but it appeared they all had their wives with them, so there was no opportunity for a bit of fun.
Knowing the excitement her stockinged legs had caused among the male guests, made Katie feel horny. By the time she arrived back home, Katie was in need of sexual relief and had to have a play with her pussy.
Stripping out of her dress, she got down on the floor and spread her stockinged legs wide so she could masturbate with her favorite vibrator up her cunt.