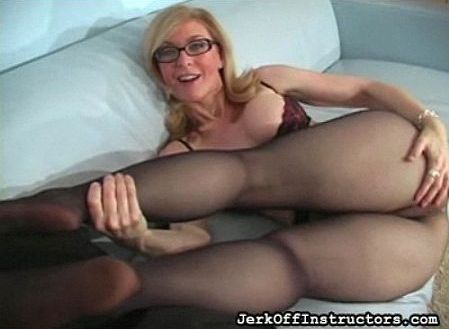 Dressed in conservative clothes from the waist up, and only pantyhose from the waist down, Nina Hartley is one wild cougar who really knows how to talk dirty and get results out of her man.
Watch as super Milf Nina lifts her skirt and suggests you use her pantyhosed ass as a nylon target for you to shoot your cum onto.
Or maybe you'd rather sandwich your cock between her insteps, fucking her feet till your cum erupts and covers them with your sticky sperm.
Perhaps, you'll just want to rub your cock over her juicy cunt, tightly encased behind the mesh of her nylon hose.
Although, when she turns around and wiggles that pantyhosed ass at you, it's hard not to get fixated on her butt, and just shoot your jizz over it right now!
But, Nina is focused on training you how to hold back your sperm, and it's her legs wants you to concentrate on first, as she encourages you to jerk-off your hard cock.
Whatever turns you on, Nina wants to build up your pleasure until you are really ready to deliver a heavy spermload on her pantyhose nylons.