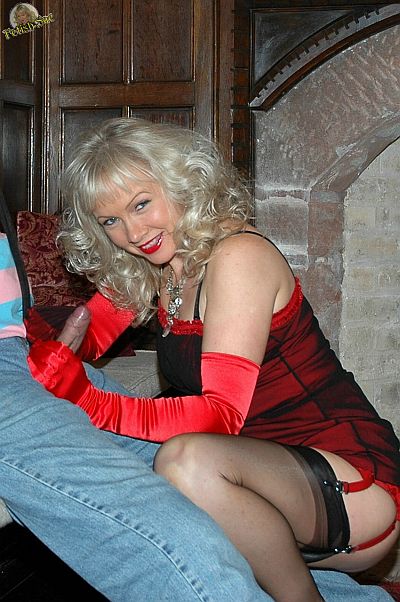 Nylon Sue is a serious nylon fetishist for whom just one layer of nylon is never enough!
Sue loves to 'mix it up' by wearing pantyhose over her stockings, or stockings over pantyhose, throwing in a suspender belt or girdle for extra kinkiness. She gets so turned on by her tight layers of underwear she inevitably reaches for her dildos and brings herself off. Sometimes she gets under the shower still wearing her clothes and gets her nylons thoroughly wet and soaked through.
Often she'll cover her slaves' throbbing cock in a nylon stocking and give it a good tug, or masturbate it with her nylon clad feet, or even wrap her heels around that throbbing member then give it a good hard foot wank.
If Sue is feeling extra kinky she'll put on her nylon mask and give that pulsing cock a nylon blow job, mouthing and licking that stocking covered knob until it spurts cum and leaves a sticky trail over her nylon covered face.
Sue is the Queen of nylon kink, so if you enjoy kinky stocking games she'll satisfy your lust for nylon at Nylon Extreme.