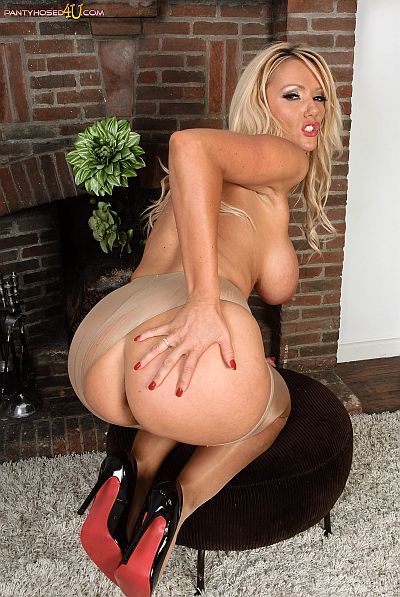 Lucy Zara's black lace dress is so short it barely covers her ass and thighs which are encased in some of the shiniest, sheer pantyhose I have ever seen.
Bands of iridescent light cross over the surface of her glossy tights as she bends and moves, drawing her hands up the back of her legs to the rounded curves of her ass sheathed in tight, shiny nylon.
'I suggest you rub your cock right over them, see how soft and silky they really are,' Lucy suggests, leaning over and extending her leg to one side and then slides her hand up from her ankles to her pantyhosed buttocks.
Sitting, she opens her legs to draw her hands up the inside of her thighs, then feels her pussy through the tight, sheer nylon encasing her crotch. Then turning around to kneel on the seat, she tilts her big, round pantyhosed ass upwards and moves it about in a very erotic way that looks so inviting.
Lucy tears at the seat of her pantyhose and ripping a hole in the rear she opens the lips of her moist cunt with her fingers and touches the ring of her ass. Then she sprawls on the floor in her shredded tights and masturbates to orgasm in her horny, ripped pantyhose.