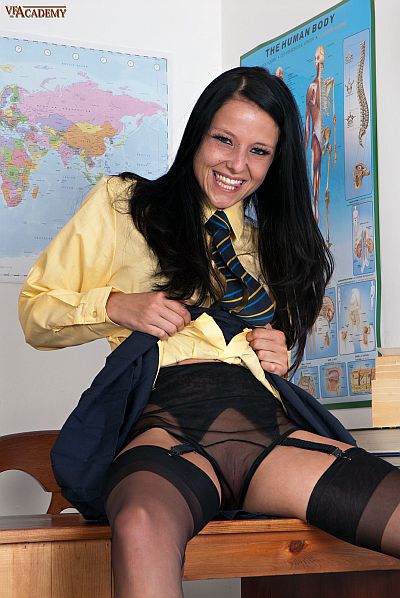 VF Academy girl Kimmy has a rebellious streak and is forever lifting her skirt and showing off her pussy to the boys from the local college.
She's also known for swearing and using bad language, and her form teacher overheard using the 'C' word. Kept behind in detention again, Kimmy is none too pleased with her teacher.
'She's making me do lines again…huh! Says my mouth is in the gutter and that I'm a dirty bitch. I'll show her I'm a dirty bitch!'
Kimmy writes the word CUNT in big capital letters on the black board. 'She thinks I don't know what a cunt is. I've got one myself, it's right there look… Would you like to see it?'
Sitting astride the desk, Kimmy lifts her school skirt and points right at the crotch of her black see-through panties.
Kimmy is in a horny mood and decides she'll just have to entertain herself, so she slips her hands down her panties and starts frigging her wet hole.
Removing her restrictive uniform Kimmy shows just how naughty she can be… Taking off her panties, she spreads her stockinged legs and fingers her moist cunt causing it squelch as she sticks her fingers in and out.
Hear Kimmy taking dirty and watch as she masturbates to a satisfying orgasm in 'Kimmy – Using the 'C' Word' at VF Academy.